Sensorium Lectures
Professor Maeve Connolly
TUESDAY January 20 (2015), 4-5:30 PM
Centre for Film and Theatre, 239
[Poster]
In this inaugural presentation for Sensorium's Lecture Programme, Professor Maeve Connolly uses the concept of the 'escape vehicle' to explore the imagination of transport (both physical and imaginative) in contemporary art and culture. Her lecture focuses on a diverse range of artworks involving objects, practices and structures that enable human mobility, recreation and survival. These vehicles include a Chevrolet van by the art collective Ant Farm, which toured the US in the early 1970s, mobile habitats by Andrea Zittel, Airstream trailers adapted by Mike Nelson and more explicitly virtual vehicles such as Aleksandra Domanovic's digital models of cinematic space stations and exoskeletons and Dan Walwin's videos and sculptural installations deploying cars, gliders and other technologies of transport.
Biography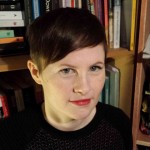 Maeve Connolly is a writer, lecturer and researcher whose work explores changing cultures and economies of art and media practice. Since 2003, she has been a full-time faculty member of Dun Laoghaire Institute of Art, Design & Technology, Dublin, Ireland, where she contributes to undergraduate and graduate programmes on art and media. Her recent book TV Museum: Contemporary Art and the Age of Television (Intellect/University of Chicago Press, 2014) charts the changing status of television as cultural form, object of critique and site of artistic intervention. Informed by theories and histories of art and media since the 1950s, but focusing on developments since the early 2000s, TV Museum includes chapters on exhibiting television; soaps, sitcoms and symbolic value in art and television; reality TV and the social turn in contemporary art; TV archives, television memory and media events; broadcasting and art in the public realm; television talk in curating and public programming; artists, television workers and changing production cultures.
Maeve's publications include The Place of Artists' Cinema: Space, Site and Screen (Intellect/University of Chicago Press, 2009), an examination of social, economic, political and cultural conditions shaping the production and exhibition of artists' film and video since the 1990s. Her writing has appeared in journals such as Afterall, Artforum, Art Monthly, Frieze, Millennium Film Journal, MIRAJ, Mousse, Screen, Third Text and The Velvet Light Trap. She has also authored catalogue essays on the work of Bik Van der Pol, Gerard Byrne, Phil Collins, Gary Coyle, desperate optimists, Anita Di Bianco, Vivienne Dick, Martin Healy, Laura Horelli, Finola Jones, Jesse Jones, Alex Martinis Roe, Bea McMahon, Charlotte Moth, Niamh O'Malley, Susan Philipsz and Sarah Pierce. In 2000, she co-edited a collection of texts and artists' projects on television, with Orla Ryan, entitled The Glass Eye (Project Press, 2000),* with contributions from Matthew Buckingham, Valerie Connor, Michelle Deignan, Bettina Funcke, Andrea Geyer, Brian Hand, Lana Lin, and Dennis McNulty, among others.